Year 4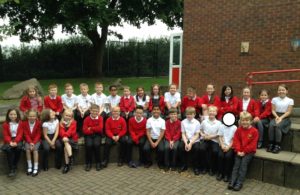 Welcome to our Year 4 class page.
Spellings have now been added to the downloads section, these will also be added to Microsoft Teams.
Children will also be tested on their times tables weekly. They will be tested on the following;
Friday 12th November 8 and 9
Friday 19th November 7 and 2
Friday 26th October 11 and 6
Friday 3rd December 12 and 10
Friday 10th December 3 and 5
Parents evening/day will take place on Wednesday 17th November, this will start at 8:30am and finish at 6:30pm.
Your class email address is: year4@hollinsgrundy.com
Please use this email address to contact the class teacher with any queries or concerns regarding your child's learning. Please allow 2 working days for your child's teacher to respond.
Who works in the class?
Mr McCrudden, Mrs Hughes, Mrs McIntyre, Mrs Gresty, Miss Taylor and Miss Starr.
Start and Finish times:
8:45am – 3:30pm
When are spelling tests?
Friday. Your child will be tested on the 100 word spellings throughout the year alongside learning new spelling patterns. Weekly spellings will be on Teams and the downloads section below.
When are Times Tables checks?
At the start of every Math's lesson.
When is homework set?
Homework will be set each Thursday and be expected to be returned by the following Wednesday.
What are procedures for reading books?
Guided reading sessions are done daily in class. Children will continue to read reading books independently (please continue to listen to your child read regularly at home) and change them in school under supervision.
When are PE days this half term?
Monday's & Tuesday's. Please send your child into school wearing their PE kit on the days they have PE. A full Hollins Grundy PE Kit must be worn. This half term children will be taught Tennis on Monday and Netball on a Thursday.
PE kit is black shorts, T-shirt (in house colour) , pumps. For outdoor sports trainers & tracksuit pants are recommended.
Rewards for hard work & good behaviour.
All children can earn house-points for their house and for themselves (Smile & Good Work assemblies, Maths stars, Class reward charts)
Consequences for lack of effort and poor behaviour
Behaviour boards –  green – amber – red. Letters home for 3 Always tickets in a week lost or 3 Reflection Room sessions at lunchtime over a half-term.
Anything else relevant for your year group
Brass lessons on Friday's.