Year 3
In order to help parents to continue their children's education as effectively as possible and to open channels of communication between home and school we are setting up class email addresses for each teacher. The address for your class is year3@hollinsgrundy.com.
As you are aware, teachers are posting learning tasks and links to educational websites on their class pages on a weekly basis. The email addresses can be used to ask teachers questions about the weekly tasks and about how to teach certain aspects of the curriculum. Don't worry about asking questions that may seem daft; it's much better to ask than to struggle on or to avoid certain subjects or topics.
I would not expect that there would be more than one or two emails per child per week. Please limit your emails to questions about children's learning, and the tasks which have been posted each week and don't return completed worksheets for marking. Teachers will aim to respond within two working days but will not be responding with additional tasks for individual children.
Many thanks,
Mr Waddington
HALF TERM WEEK – WB 25.5.20
Hi Year 3,
Another week! I hope that you and your families  keeping safe and well. Keep working hard and being fabulous!
As this week is half term week, no new work will be uploaded. Please do keep practicing spellings and times tables and reading as much as possible.
I thought that this week, I'd tell you a joke and a riddle to keep your mind active. See if you can guess the answer (no cheating! 😛 )
Joke
Why was Cinderella rubbish at football? Because she's always running away from the ball!
Riddle
Where can you find towns, streets, cities and shops but no people?
Stay safe Year 3
Mr McKenzie x
Notes for Parents
Updated work for this week. I hope that this is explained clearly and please do email me should you have any queries/concerns. I appreciate that some children have not been able to interact or speak to their friends, which has undoubtedly been a very testing and upsetting time. I have put some activities to promote mindfulness and good mental health and I appreciate that home-school learning can be tricky, so please do contact if you need to. Should there be any new developments that you need to be aware of, you will be made aware of these via text alerts and webpage updates.
It would be great if you could take a photo and upload any work to our school Twitter page @HollinsGrundy
If you haven't already, please do check out what others have been up to on our Twitter feed; there is also a message from teachers there too.
MATHS
FRACTIONS
I am aware that fractions were covered a few weeks ago but this week's work focuses on equivalent fractions and adding fractions with the same denominator (I have included a piece of work that involves subtracting fractions too). There is a PowerPoint that explains adding fractions and what we need to do.  The 'Adding Fractions' challenge is differentiated according to ability, and children should be able to access a level they feel comfortable with. There is nothing to stop the children completing all 3 sheets and progressing through the diffiiculty level.
Equivalent fractions can be a slightly trickier concept and again includes a PowerPoint with teaching slides. There are 3 challenges following this. The second challenge is a practical challenge that requires the children to make their own equivalent fraction wall. I have also uploaded a completed and colourful fraction wall that can be very useful for the children in completing their work, especially with equivalent fractions. They should use this to complete their work and try to do so independently.
I have highlighted the highest difficulty challenged as such, and have also put a less challenging fraction problem task on there which I have highlighted as 'LC Fraction Problems'.
Fractions Mastery – PowerPoint that covers some greater depth material relating to fractions with an accompanying challenge.
There is also a Times Tables Rockstars document to practice times tables. I would like to remind you that Times Tables rockstars is still active and you should be able to access the full range of games and challenges available on there. Should you need your child's login details, please ask.
ENGLISH
SPAG – conjunctions sheet and subordinate clause sheet. We have covered subordinate clauses in class. Subordinate clauses are part of sentence that does not make sense on its own but adds more information about the main clause. For example: As quick as a flash, the dog ran across the field.
Grammar and punctuation assessment – I have uploaded two assessment papers that I would have done if the children were in school. These cover key objectives related to grammar and punctuation and are a good way to determine if there are any gaps or weaker areas in the children's knowledge. These should be completed independently.
Reading – I have uploaded a reading assessment that the children should complete independently. The assessment covers two different texts; one fiction and one non-fiction. In addition, there is also a general non-fiction reading comprehension that is differentiated according to difficulty using star system (three stars being the most challenging). I have also given the children another media based comprehension based on the short film 'Bubbles'. We did begin to look at this story in class, but we did not get the chance to finish. Therefore, the children should be familiar with the film – the questions have been differentiated using stars and again I kindly request that you select the difficulty level that you feel is appropriately challenging for your child.
Writing – Updated success criteria for the 'Lockdown adventures' saga that the children have been writing over the past few weeks. There is a general outline for the children to follow and a success criteria for you to complete together.
Also, I have uploaded a copy of the Year 3 and 4 spelling words. It would be good to keep practising at home if not already doing so.
GEOGRAPHY
'Under our feet' is a PowerPoint that looks at the way the Earth is constructed and the different layers beneath us. Once the PowerPoint is completed, there are two activities to accompany it. One is the 'Inside the Earth' activity sheet. I have put two challenge levels in there. The other is an optional craft activity that involves making your own Earth. I would like to emphasise that although this activity is fun and engaging for the children, it is not possible for everyone to acquire the appropriate equipment/items and thererfore is entirely optional.
Focusing on Earthquakes, this PowerPoint, once completed, has some challenges to be getting on with. One of these is looking at the impact of an earthquake depending on its size/magnitude and the other is design activity that requires the children to design an 'earthquake-proof' building.
Just a thought – One thing I do in class is to show the children a video clip of the 'Earthquake Ride' attraction at Universal studios, as it shows the devastation and tremendous destruction an earthquake can cause without, in this case, being 'real'. That way, the children can see something exciting without having to see unpleasant truths relating to injuries and fatalities.
HISTORY
We would have been starting our Summer term topic 'What impact did the Victorians have on the Bury we see today?' and as such, I have given the children a research task to complete relating to Bury. There are 6 questions to research and following this, the children should create an information poster that presents their findings.
From Mrs Rhodes
Hi Year 3,
This week in RE you can learn to understand why a shrine is a special place in a Hindu home. I have included a Hindu Shrines (3A ) fact sheet that can be read or discussed before you try the activity.
Worksheet 3A. ( 1 activity)
Worksheet 3B. ( 2 activity)
Worksheet 3CorD. ( 3 activity)
Fancy doing something different? Think about your own special place and what makes it special. This could be a religious or secular place, at home, at school, outside, etc. Children to draw or describe these special places and why they are important to you using Worksheet (3D). Think carefully what objects would you consider precious enough to include in your shrine?
FRENCH
I have included a French Home Learning pack this week. Try to do a French activity at least once/twice a week, or more often if you like! Variety is the spice of life! Remember, the more often you practise, the better you will remember. Why not do some with your family or teach a sibling?
MUSIC
Don't forget to logon to charanga to explore your new challenges.
Enjoy learning and keep being amazing.
Mrs Rhodes x
WORK UPLOADS
Some of you have been working really hard at home and have sent me some great pictures of your hard work: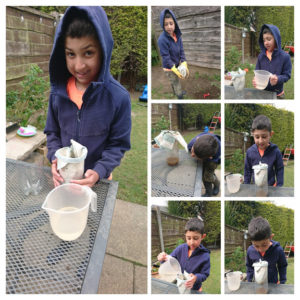 Who works in the class?
Mr McKenzie (Class Teacher). Mrs Rhodes (PPA cover – RE, Music & French) Mrs Heng (Teaching Assistant)
What are this terms topics?
A whole school topic grid is on the curriculum page of the website. Individual year group grids are on class pages.
When are spelling tests?
Friday, with new spellings handed out on a Monday.
When are arithmetic/mental maths tests?
Tuesday
When is homework sent out?
English and maths homework is sent home each week on Friday.A topic homework grid is also sent home with a homework book.
What are procedures for reading books?
Children are responsible for changing their own reading books in school. Children will read to the class teacher once every two weeks.
When are PE days?
PE are Wednesday and Friday for this term.
PE kit is coloured house t-shirt (red, green, yellow or blue depending on house), black shorts and black pumps. Kit should be in school ready for every PE lesson. Please make sure that children's PE kit is clearly named.
Rewards for hard work & good behaviour.
All children can earn house-points for their house and for themselves Smile & Good Work assemblies Maths stars Class reward charts
Consequences for lack of effort and poor behaviour
Behaviour boards –  green – amber – red Letters home for 3 Always tickets in a week lost or 3 Reflection Room sessions at lunchtime over a half-term